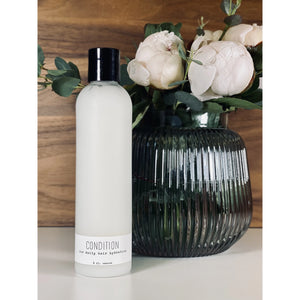 Daily Hair Conditioner - New
A basic, natural daily hair conditioner that is good for all hair types. As shampooing can strip too many of hair's natural moisturizers, conditioning is the way to lock in moisture after cleansing. This conditioner is formulated to help revitalize dull hair, add shine, and improve the general feel and manageability. The essential oil blend has a bright and fresh scent, and is good for scalp health, and shine.  

Ingredients: Organic Aloe Leaf Juice, Cetearyl Alcohol, Castor Oil, Stearkalkonium Chloride, Phenoxyethanol, Hydrolyzed Wheat Protein, Provitamin B5, Pure Essential Oils.