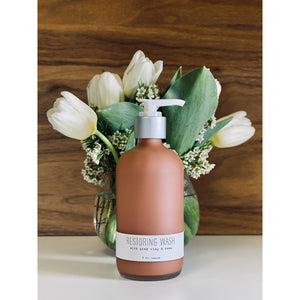 Restoring Face Wash - New
This face wash is good for all skin types. It's gentle, and contains pink clay, which is helpful at balancing skin tone and texture. Pink clay works to bring blood to the surface of your skin, revitalizing your skin with fresh blood - and it can cause redness. If your skin is sensitive to this, we recommend using it at night so your skin cells can use the time you're sleeping to regenerate themselves. This is perfectly healthy, natural, and good for your skin.
Packaged in an 8oz frosted glass bottles with white pump.

Ingredients: Distilled Water, Organic Coconut Oil, Organic Potassium Oleate, Lauryl Betain, Pink Clay, Benzyl Alcohol, Potassium Palm Kernelate, Palm Kernel Acid, Decyl Glucoside, Potassium Citrate, Pure Essential Oils.